How to Transfer a Domain to Bluehost – 7 Simple Steps
The process of transferring your domain to bluehost is not at all difficult. But if you would like to have a step-by-step guide, we are here to show you just how easy it really is.
All that you will need is a bit of time and patience. The process itself is extremely straightforward. You will need to:
Get your domain ready for transfer.
Make sure all your contact information is in check.
Turn privacy off.
Update your DSN.
Unlock the domain.
Begin the transfer process.
Wait.
Your Domain Name Should Be Ready
Before the transfer, make sure you have all of your domain's settings updated with your current registrar. If you need assistance with this or any other step of this guide, You can contact bluehost support for help.
Take a Look at Your Contact Details
As mandated by ICANN, your domain's WHOIS record includes your contact information. The gaining registrar will email the administrative contact with important information about the transfer. If the information on the domain record is incorrect, make sure you correct it before the transfer.
For gTLDs, changing the registrant's contact information (such as their name, organization, or email address) triggers an extra step called a "Change of Registrant." This necessitates a second round of verification before the updated data can be stored. Find out what you need to finish this procedure by contacting your registrar.
You Should Turn Off the Privacy Setting
You will need to disable domain privacy. The WHOIS database does not reveal your contact information if you opt for privacy. But, In order to send out the transfer codes, the gaining registrar needs that information.
It is possible, though, to see your domain's WHOIS information and get the domain transfer emails even if Privacy Protection is deactivated; if it is enabled, those emails will be forwarded to a mailbox that cannot be viewed.

Your DSN Needs to Be Updated.
Your domain's visitors are routed to the host server through the name servers. Changing your nameservers will allow you to avoid having to wait until the transfer is complete if you've already transferred your website to your Bluehost account. While the transfer is in process, you cannot make Domain Name System modifications, therefore you must do it immediately.
Once you save your changes, your new Domain Name System settings will take effect. It might take anywhere from 24 to 72 hours for each Internet Service Provider to perform a global update. In this period, your email and web traffic will be sent to either the old or new host, depending on the visitor's Internet Service Provider.
Unlock the Domain Name
The last step in finalizing the process of transferring your domain is to unlock it. Certain domain registrars allow you to unlock your domain by yourself, but you may also request that they do it for you.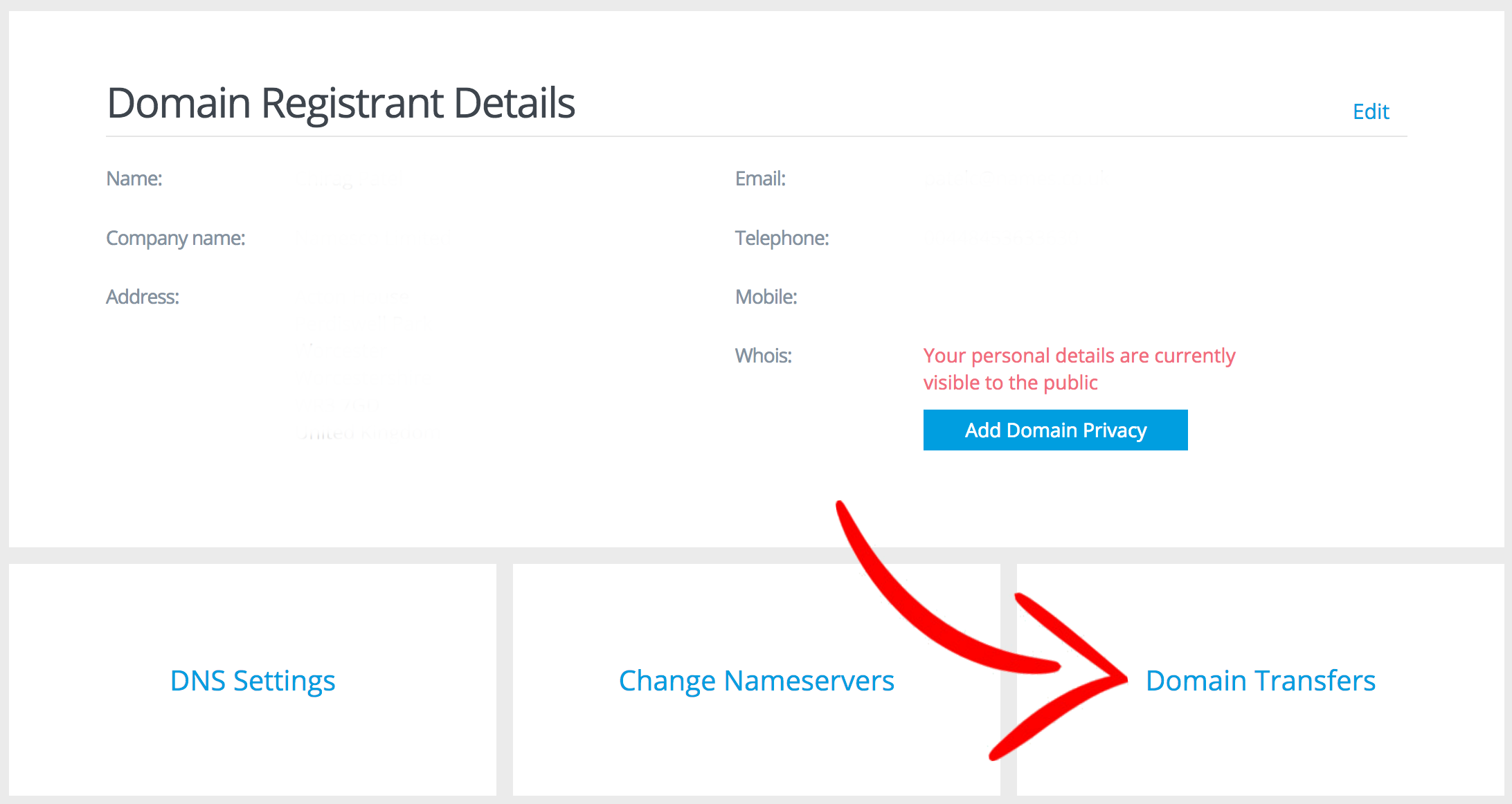 Acquire the Extensible Provisioning Protocol/epp Code
The Extensible Provisioning Protocol code is essential. To complete the transfer, the domain must have a password that includes, special characters, letters, numbers. Don't be afraid to ask your existing Domain Registrar for help if you have any questions about getting your EPP code.
Begin the Transfer Process
Users with Bluerock accounts will see a vertical menu on the left-hand side of their screen, whilst users of Legacy accounts may access the menu at the top. Bluerock vs. Legacy can help you select which step to take if you're still confused about what interface your account is currently using.
Bluerock Transfer Process
Use the control panel on your Bluehost account. From the left-hand side navigation menu, choose Domains. When the sub-menu displays, choose transfer.
Click the Continue button once you've entered the domain name you wish to move. Once you've entered your EPP Code, click the Continue button to continue.
You will get an email with an Admin Verification code at the domain administrator's email address during our two-step verification procedure. Once you've entered the verification code, press the Continue button.
Select whether you'd want to add Domain Privacy to your nameservers and pick your renewal choice. After reading the Terms of Service, click the "Add to Cart" button to proceed. To begin the transfer, you must make a payment first.
Legacy Transfer Process
Log in to your Bluehost account. Then, in the submenu under the domains tab, choose "Transfer Domain". Alternatively, you may choose "Transfer" from the Action Items menu.
Click the Continue button after entering the domain name that you wish to move to your account. You must enter the EPP code to proceed.
Two-step verification includes sending the Admin Verification Code to your domain's administrator. Continue by entering the code. Your nameservers may be changed here; you can also select whether or not you wish to add domain privacy.
Finally, click "Add to Cart" once you've checked the box acknowledging your understanding of the Terms of Service.
In the Shopping Cart, you'll find that ICANN mandates that the acquiring registrar renew the name for one year upon transfer. To begin the transfer, you must make a payment first.
All That Is Left Is to Wait
A domain transfer may take up to five days to complete, but you can speed things up by directly authorizing the transfer with certain registrars. If you wish to see how the process is progressing
Log in to your Bluehost Domain Manager account to access it. In the submenu at the top of the page, choose transfer. You can see the current status of the transfer under "Details," and you may click on the link to learn more.
After you have done all of this, if at any point you wish to move your domain to another hosting platform, you can easily do so.
Why Transfer a Domain To a Different Provider?
There are a variety of reasons why a domain owner would want to switch hosting providers. Paying domain renewal costs is a necessary part of owning a website, and bluehost domains are on the more expensive end compared to their competition. However, there is no charge for transferring a domain to a different provider.
If at some point you decide to go with a cheaper alternative, you can follow these next steps to do so. We will walk you through the whole process of transferring your domain from bluehost to another registrar.
How to Transfer a Domain Name from Bluehost to a Different Provider
There are just a few steps to go through at bluehost and the rest at your new domain registrar required to transfer a domain. Once you have logged into your bluehost account, choose Domains.
Once you've chosen the domain name, click "Transfer." Unlock the domain by clicking on Lock and then Unlock. Copy the EPP code by clicking the Transfer EPP Code button and entering the EPP code in the text field. In order to transfer a domain to a new registrar, the new registrar will need your EPP code.
You've completed all of the steps on Bluehost required for domain transfer. To begin the domain transfer process, you'll need to visit the website of your new domain registrar. For the sake of this article, we will be going with GoDaddy, a well-known domain registrar.
Click on Domains, then transfer, and finally, Transfer your domain name and EPP code to GoDaddy. To begin the transfer procedure, click on transfer and make an account. After that, make you have to make a payment in order for everything to initiate.
Once you've completed this step, an email asking for authorization to transfer the domain will be sent to you. If you do everything correctly, your domain will be transferred to your new domain registrar.
In addition to Godaddy sending you an email about the domain transfer, bluehost will also send you an email. Please do not click on the link in the email unless you have thoroughly read it. bluehost will cancel your domain transfer if you don't complete it.
Conclusion
Now you know all there is about transferring your domain in and out of the bluehost web hosting platform. As you can see, it is not as hard as it may have seemed in the beginning. And even if you had trouble before, now you know that you can always come back here and reference the article for help.